A position of strength or the principle of equality-takeaways from the China-US strategic dialogue
Share - WeChat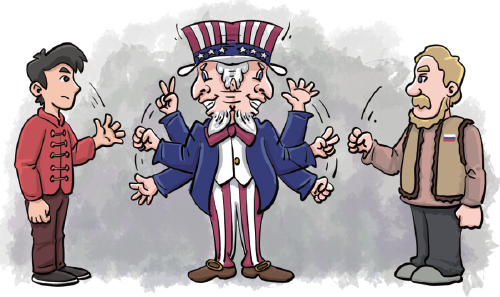 The two-day meeting in Anchorage, Alaska, between the Chinese and US top diplomats has been reported with much fanfare. The opening cross-fire, the longer than expected sessions, the mixed messages. There were moments of welcome and pleasantries, chills and barbs, heat and spat. Headlines aside, let's take a calm and closer look at the high-level face-to-face dialogue between the biggest developing country and the biggest developed country in the world, the first since the Joe Biden administration took office in the year the Communist Party of China celebrates its 100th birthday.
Lack of respect countered with all seriousness
In his opening remarks, US Secretary of State Antony Blinken touted "the rules-based international order" and expressed the intention to be "direct about concerns" on China's actions, framing matters related to Xinjiang, Hong Kong, Taiwan as "not merely internal issues", but threats to the "rules-based order that maintains global stability".
US National Security Advisor Jake Sullivan, on his part, narrated "the proud story of America", citing the Quad Summit, and the commitment to democracy, a "free and open Indo-Pacific", and the interests of US allies and partners.
Well, hardly a warm welcome from the host. Clearly, the United States wanted to approach China from a position of strength, strengthening itself at home and globally by working with its allies and partners. The question is: Is this the right approach?
From the Chinese side, Yang Jiechi, a member of the Political Bureau of the CPC Central Committee and director of the Office of the Central Commission for Foreign Affairs, elaborated on China's system that works effectively for the country, people's strong support for the CPC leadership, and remarkable progress in COVID-19 response and economic development. While underscoring China's sincerity and goodwill, he made clear China's views on international order and values.
China advocates the international system centered on the United Nations and the international order underpinned by international law. China maintains that peace, development, fairness, justice, democracy and freedom are values shared by humanity. China wants to build a community with a shared future for mankind and a new type of international relations.
Rejecting the approach of a strong hand, Yang emphasized that the Chinese people are not to be intimidated. He underlined the common understanding between President Xi Jinping and President Joe Biden during their phone call on the eve of the Chinese New Year, and the imperative for a spirit of no conflict, no confrontation, mutual respect and win-win cooperation.
State Councilor and Foreign Minister Wang Yi stated that it is time the United States change its habitual practice of interfering in China's internal affairs. Introducing sanctions one day before the dialogue is by no means a diplomatic protocol of hospitality. When it comes to state sovereignty and national dignity, China will never give in, not an inch.
Sincere and serious, firm and formidable, China drives home the rules of the road in the 21st century, mutual respect, equality and justice, the centerpiece of basic norms in international relations.
Elements of trust, the more the merrier
"It's never a good bet to bet against America", Blinken quoted Biden. Is it a warning or a complaint? After four lost years, trust is running thin. China says loud and clear it has no intention to challenge or replace the US, all its strategies are designed to meet the people's aspirations and it pursues an independent foreign policy of peace.
While recognizing the Chinese people's right to a higher quality of life, the US side insists that it is looking at China's deeds, not words.
Yes, differences abound and doubts are deep. History, culture, political system, it seems hard to identify similarities. The lists of concerns are long on both sides. Business environment, universal values, compliance with obligations, to name but a few from the US side. Power politics, acts of bullying, interference in internal matters, suppression of high-tech companies, restrictions on students and journalists, China's list could be longer.
Each side needs to get to understand the other better and deeper, on priorities, policies and principles, domestic and global. When both believe firmly in the righteousness of their ways, that's where diplomacy comes in. To sit down and hear each other out helps. The way forward should not be defined by finger-pointing or condescending lectures. It's high time to build trust, albeit little by little.
Cooperate, as equals and for mutual benefit
Complex and important as China-US relations are, cooperation remains a vital piece of the puzzle. Blinken repeated his position that "the United States' relationship with China will be competitive where it should be, collaborative where it can be, adversarial where it must be."
China advises otherwise. Shared interests far outweigh differences and cooperation benefits both countries. To course-correct the current state of affairs, the two countries need to get back down to business in areas where their interests converge.
COVID response, economic recovery, climate change, regional hotspots, there are so many areas where China-US cooperation will make a big difference. Blinken noted in his first foreign policy speech: "Not a single global challenge can be met by any one nation acting alone-not even one as powerful as the United States."
One of the biggest lessons we learned the hard way from the novel coronavirus is that humanity is a community with common interests and a shared future. We're all in this together. The two permanent members of the United Nations Security Council need to step up and take collective and coordinated actions. As President Xi said, China and the US should make historic contributions to world peace and stability. The world expects nothing less.
For China and the US, Anchorage could serve as a midway meeting point. In early spring, it's still snowing. The meeting has been frank and constructive. Much has been discussed. Hopefully each side gets a bit better understanding of the other. Just be realistic. More remains to be done. Mistakes are to be corrected. Wrongs are to be righted. Think hard, make the right decision. Stakes are high and possibilities unbounded.
The author is a Beijing-based observer.
The views don't necessarily represent those of China Daily.
If you have a specific expertise and would like to contribute to China Daily, please contact us at opinion@chinadaily.com.cn, and comment@chinadaily.com.cn.
Most Viewed in 24 Hours
China Views