Putin dismisses criticism of Sputnik from abroad
Share - WeChat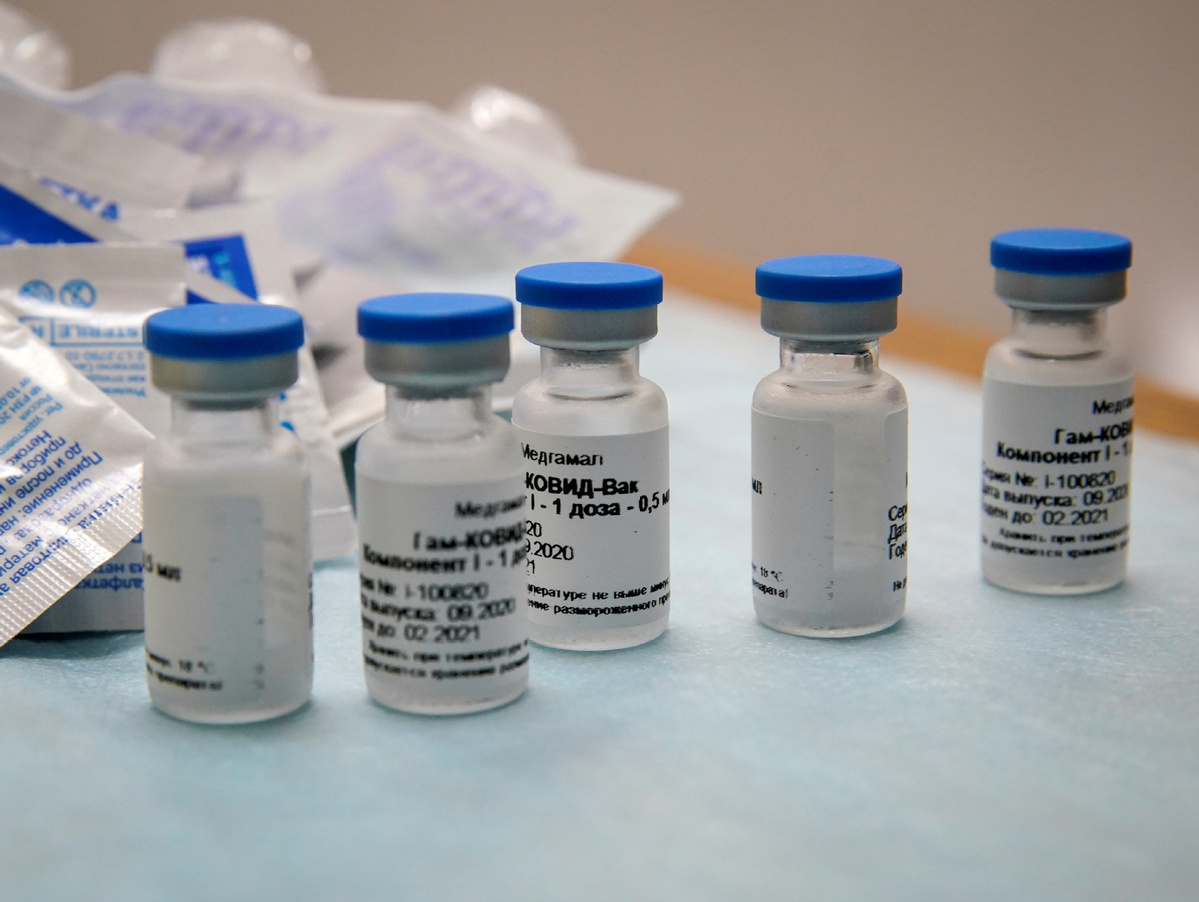 Russian President Vladimir Putin on Monday dismissed criticism of Russia's Sputnik V coronavirus vaccine from abroad, stressing that the battle against the pandemic should be depoliticized.
Putin also said he was about to get the jab.
"A vaccination is a voluntary choice of every person, their personal decision. By the way, I intend to do it tomorrow myself," Putin said in a meeting on Monday discussing increased production of the vaccines.
Kremlin spokesman Dmitry Peskov said Putin might take one of three Russian-made vaccines on Tuesday.
The state-sponsored Sputnik V vaccine is yet to be approved for widespread use in Western countries, despite Moscow's insistence it is safe and effective, and the slow rollouts of vaccination campaigns in Europe.
"We are not imposing anything on anyone … Whose interests are such people protecting-of pharmaceutical companies or the interests of citizens of European countries?" Putin said in a televised meeting with health officials.
Russia registered Sputnik V in August, ahead of large-scale clinical trials, prompting worries among some over the fast-tracked process.
Reviews have subsequently been largely positive, with leading medical journal The Lancet publishing results showing it safe, with an efficacy of more than 90 percent.
"Despite the deliberate discrediting of our vaccine, more and more countries are showing interest in it," Putin said.
In order to achieve the common goal of a high level immunity against COVID-19 in Russia and elsewhere, joint efforts are needed, Putin said.
Health Minister Mikhail Murashko said at the meeting that experts from the European Medicines Agency will to go to Russia on April 10 to review clinical trials conducted on the vaccine.
The Amsterdam-based agency this month launched a rolling review of Sputnik V, a key step toward its being approved as the first non-Western coronavirus jab to be used across the 27-nation bloc.
'Strange' comments
Still, critics in the West have raised questions about the vaccine and accused Russia of using it as a propaganda tool. Putin called such comments "strange" and suggested lives were being put at risk.
The EU has no need the Sputnik V vaccine, an official in charge of the bloc's vaccination rollout said.
EU Internal Markets Commissioner Thierry Breton said the EU can achieve continentwide immunity through its own production capacities.
Russian Deputy Foreign Minister Alexander Grushko said on Monday that he noted the attempts to prevent the use of Sputnik V in the EU are continuing.
"It is a target for a disinformation and discrimination campaign, and we hear political statement that cannot be interpreted other than politicized," Grushko said.